Welcome to our comprehensive engagement ring guide. Whether you're just beginning your search or looking to expand your knowledge, this guide will provide valuable information on ring designs, terminology, anatomy, and metal types, helping you make an informed decision when selecting the perfect engagement ring.
Ring Body Styles
When it comes to ring designs, they often stem from two main body styles: the traditional and cathedral settings. These two base structures serve as the foundation for a wide range of ring styles, including halo rings, three-stone rings, vintage-inspired rings, and other modern designs.
The traditional setting features a single center stone held by prongs or a bezel setting, allowing the diamond or gemstone to be the center of attention. This classic design showcases the beauty and brilliance of the center stone with a clean and timeless look.
The cathedral setting refers to the design where the band gracefully arches upward to meet the center stone, resembling the architectural arches of a cathedral. This style provides extra support and highlights the center stone, creating an elegant and sophisticated look.
Traditional vs. Cathedral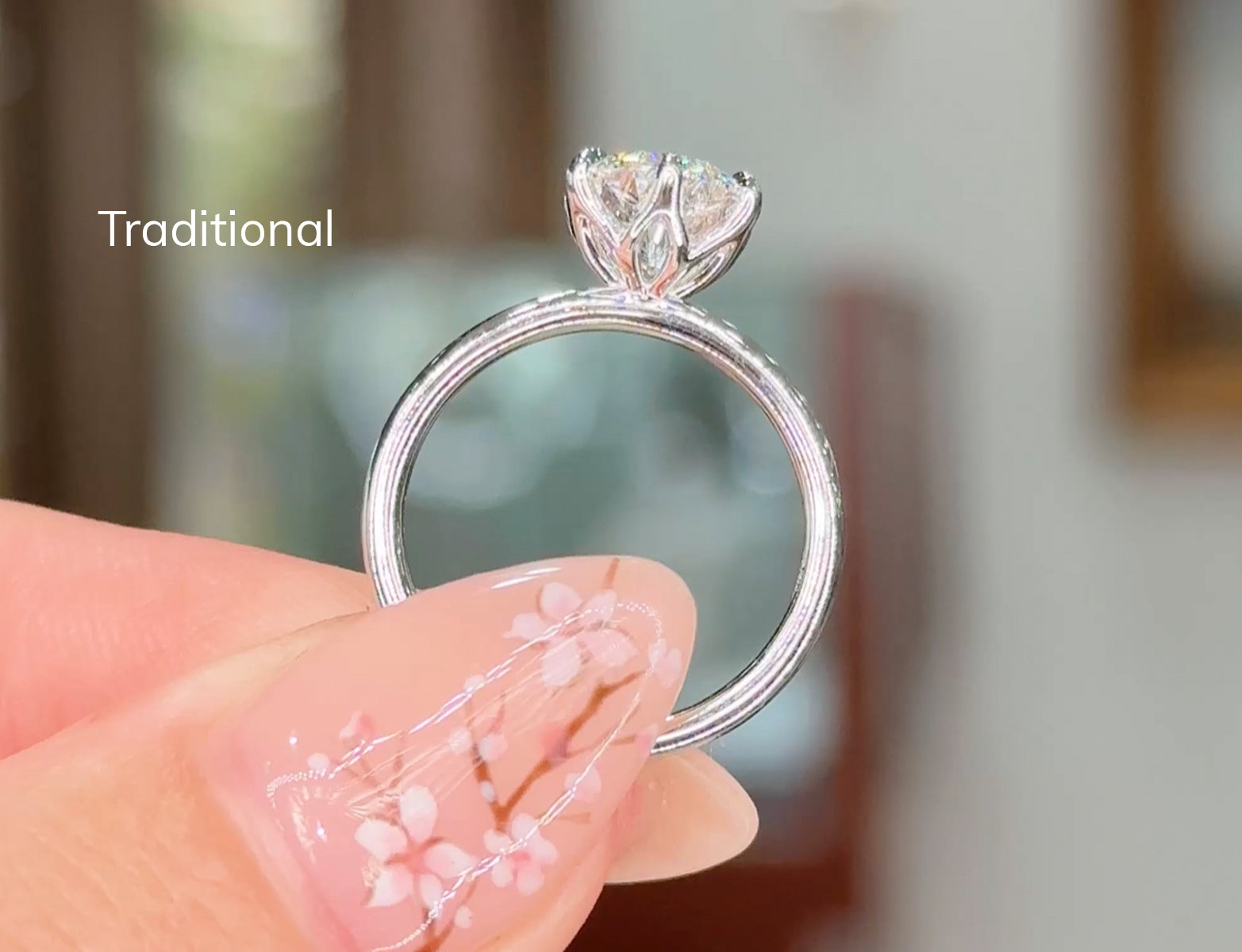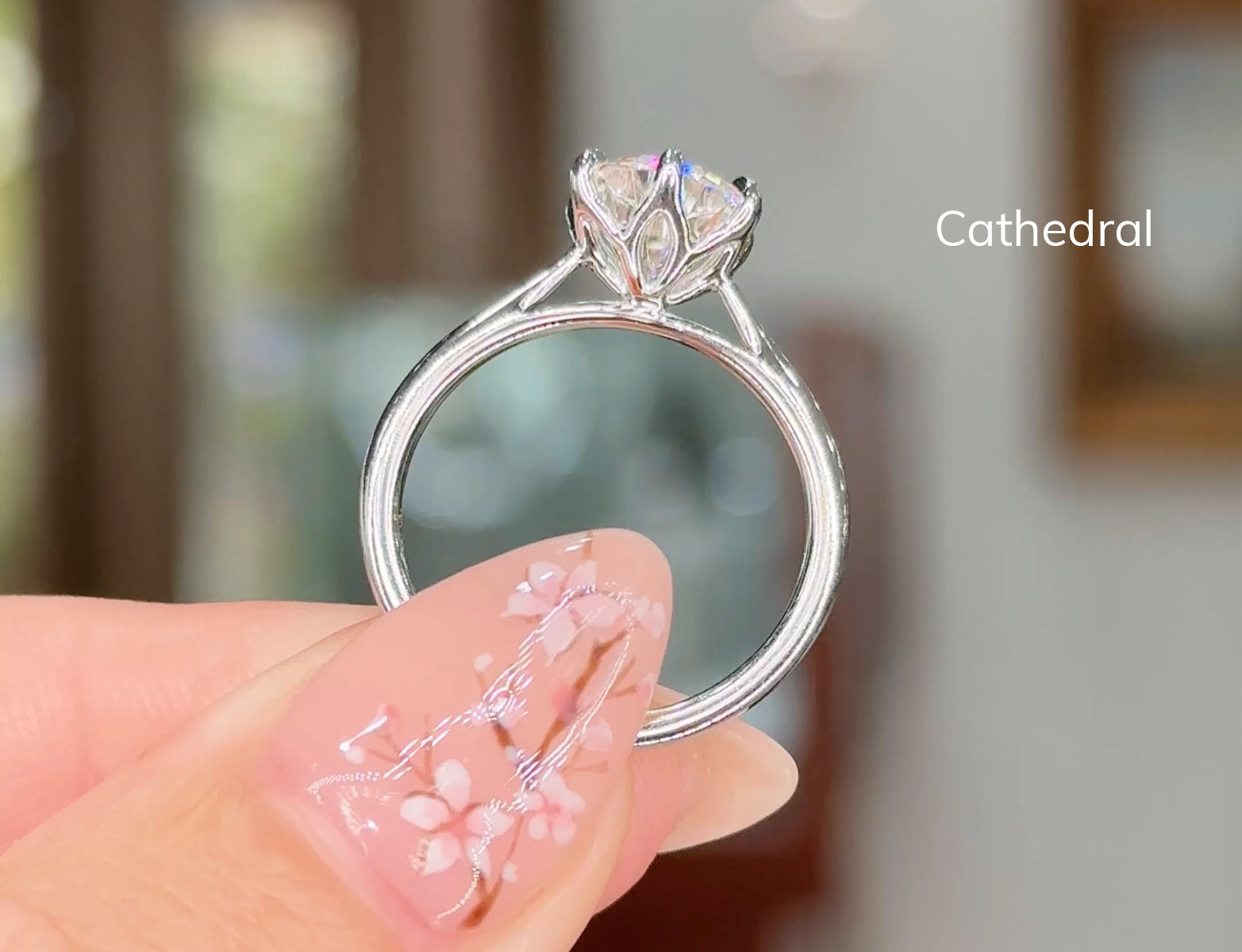 Ring Designs
From the traditional and cathedral foundational styles, various ring designs emerge:
A halo setting surrounds the center stone with a circle or multiple circles of smaller stones, accentuating its size and adding extra sparkle and glamour. Shop Halos
Similar to halo rings, hidden halo rings feature a circle of smaller stones beneath the center stone, creating a subtle and enchanting halo effect. This design adds a touch of elegance and intrigue to the ring. Shop Hidden Halos
Petal prong rings feature prongs that resemble delicate petals, embracing the center stone with a graceful and organic appearance. This design adds a romantic and whimsical touch to the ring, evoking the beauty of nature. Shop Petal Prongs
A classic solitaire ring features a single center diamond or gemstone mounted on a plain band, emphasizing the beauty and simplicity of the stone. Shop Solitaires
Three-stone rings feature a trio of diamonds or gemstones symbolizing the past, present, and future. The side stones complement the center stone and add depth and symbolism to the design. Shop Three-Stones
Vintage-inspired rings draw inspiration from different eras, incorporating intricate details like filigree work, milgrain edges, or engraving, creating a romantic and nostalgic aesthetic. Shop Vintage
Nature-inspired engagement rings capture the beauty and essence of the outdoors, evoking a sense of romance, harmony, and connection to nature. They embrace organic shapes, textures, and motifs, often incorporating floral patterns, leaf-like details, or other natural elements into the ring's design. Shop Nature
A 3D Pavé ring refers to a ring design where the shank (the band of the ring) features diamonds that are set in a three-dimensional manner. In this design, the diamonds are not only set on top of the band but also on the sides, creating a continuous row or pattern of diamonds that are visible from various angles. The diamonds are typically set closely together, creating a pave (pronounced pah-vay) effect, where the metal is barely visible, and the diamonds appear to be paved or closely set. Shop 3D Pavé
By understanding these ring designs and their unique characteristics, you can explore a variety of options and find the perfect engagement ring that reflects your personal style, captures the essence of your love story, and symbolizes your commitment to a lifetime of happiness together.
Ring Terminology & Anatomy
When exploring engagement rings at Princess Bride Diamonds, it's helpful to familiarize yourself with some important ring terms. These terms will enhance your understanding and facilitate effective communication when discussing and selecting your perfect ring. Here are several key ring terms to know:
A technique where small diamonds or gemstones are set close together, with minimal visible metal, to create a paved or closely-set surface that adds brilliance and sparkle to the ring.
The circular band of the ring that encircles the finger, providing support and stability to the overall design.
Side Stones/Accent Stones

Additional diamonds or gemstones set alongside the center stone, adding visual interest and enhancing the overall beauty and sparkle of the ring.
We offer our clients the flexibility to choose the extent of the diamond setting on their eternity band. You have the option to select from three different options: 50%, 75%, or 100%.

If you choose 50%, the diamonds will be set on half of the band's circumference.

Opting for 75% means that the diamonds will be set on three-quarters of the band, covering a larger portion of the circumference.

100% diamond eternity band means that the diamonds will be set around the entire circumference of the ring, leaving no exposed metal. While this design offers a stunning display of diamonds, it's important to consider that a 100% diamond eternity band may be non-sizable.

The reason for this is that the diamonds cover the entire band, leaving no space for adjustments or resizing without potentially compromising the integrity of the setting. As a result, it's crucial to ensure the accurate sizing of your finger before selecting a 100% diamond eternity band.
A high polish refers to a smooth and reflective finish applied to the surface of a piece of jewelry, such as a ring. It is achieved through a process of carefully buffing and polishing the metal to remove any imperfections and create a glossy and lustrous appearance.
A center stone refers to the main or primary gemstone in an engagement ring. The center stone is typically larger and more visually striking than the side stones or accent stones that may accompany it. It is often a diamond, but it can also be another gemstone like a sapphire, ruby, emerald, or moissanite, depending on personal preference and the desired aesthetic.
The portion of the ring that holds the center stone or stones in place. There are various setting styles, such as prong, bezel, pave, or channel, each with its own unique look and functionality.
The open space underneath the center stone or between the prongs. It allows light to enter the stone, enhancing its brilliance and allowing for easy cleaning.
Metal claws or prongs that hold the center stone in place. They secure the stone while allowing maximum light exposure for optimal brilliance.
The part of the band that connects to the setting or head of the ring. It can be plain or adorned with additional stones or design elements.
Engravings or stamps inside the band that indicate the metal type, purity, and sometimes the manufacturer's mark.
A small bar or piece of metal inside the band that allows for easy resizing of the ring if needed.
Ring Anatomy
Here are several key ring terms to know:
Diamond Eternity
We offer our clients the flexibility to choose the extent of the diamond setting on their eternity band. You have the option to select from three different options: 50%, 75%, or 100%.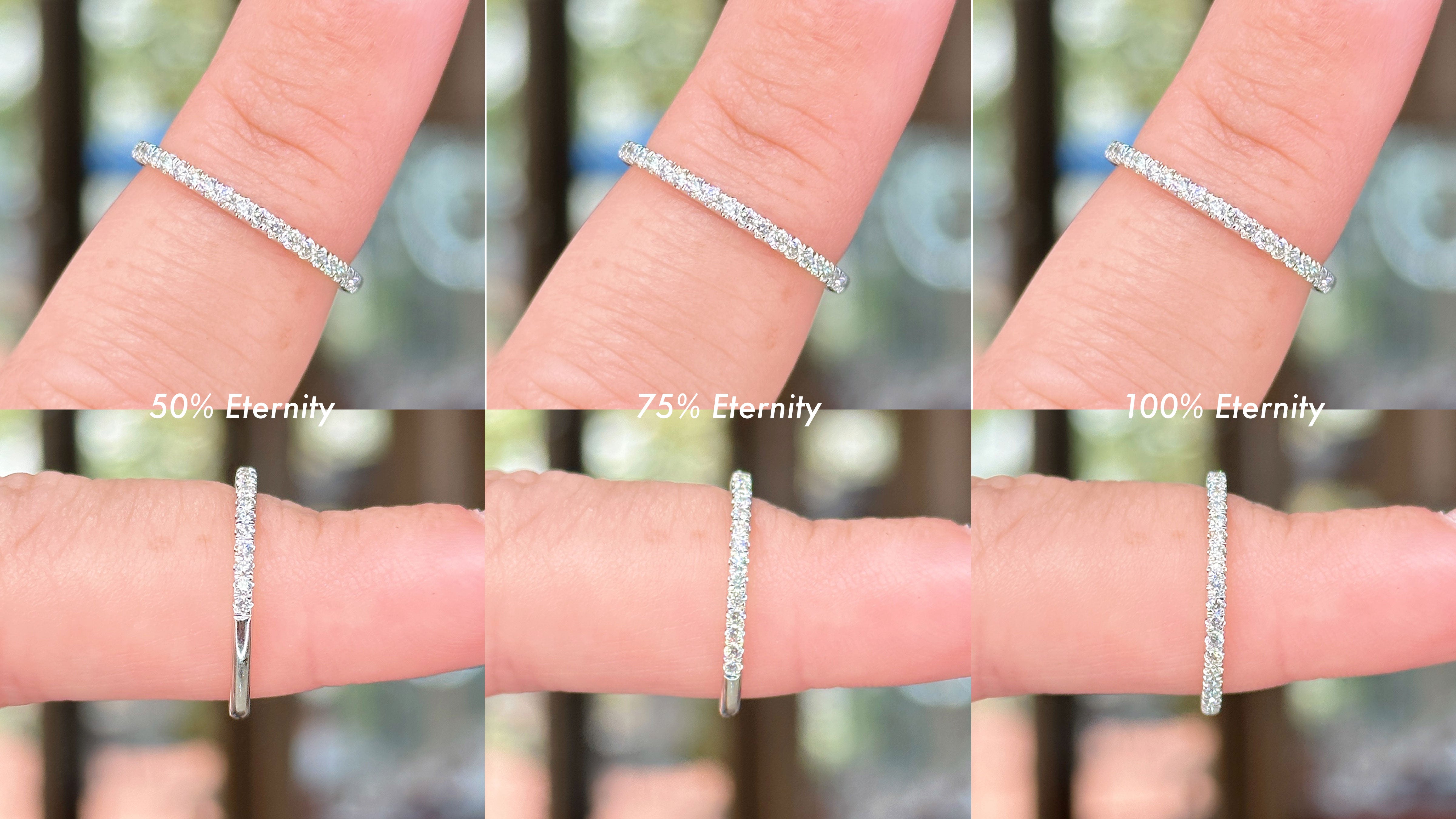 Metal Types
A comprehensive look at the makeup, maintenance, and other characteristics of 14K Gold, 18K Gold, and Platinum
This metal is 58.5% gold, mixed with other white metals like silver, palladium, or nickel, and typically coated with rhodium for a bright white finish. Maintenance includes rhodium plating as the coating tends to wear off.
Composed of 58.5% gold and other metals such as copper and zinc. It's less susceptible to scratching than white gold but needs regular cleaning. Occasional professional polishing can be done to remove any scratches and maintain its shine.
A blend of 58.5% gold and a higher percentage of copper, giving it a rosy pink hue. Rose gold is more durable due to the copper content and less prone to scratches. Regular cleaning will keep it shining.
This variant contains 75% gold mixed with 25% other white metals, often coated with rhodium. Maintenance includes rhodium plating as the coating wear off. Its higher gold content makes it softer and more susceptible to scratches, so occasional professional polishing may be required.
Made of 75% gold and 25% other metals. It requires regular cleaning and occasional professional polishing to keep it looking its best. Its high gold content makes it more prone to scratches.
This metal contains 75% gold and a larger amount of copper than 14K rose gold, producing a more orangey rose color. Its higher gold content makes it slightly softer and more susceptible to scratches than 14K rose gold. Regular cleaning will help maintain its shine.
Our platinum is 95% pure, which makes it denser. In its pure form, it's hypoallergenic. Platinum is more prone to scratching than gold. When scratched, the metal is displaced rather than lost, creating a patina some find appealing. Regular cleaning is required, and professional polishing can be done to remove scratches or restore its shine if desired.
Remember, the specific metals mixed with gold or platinum can vary, so for individuals with metal allergies, understanding the exact composition of their jewelry is crucial. Regular professional cleaning and inspections for all types of jewelry are recommended to ensure longevity.
Ring Sizing
Determining the correct ring size is a crucial step when planning to buy an engagement ring. An ill-fitting ring can cause discomfort and risk of loss. Here are some methods and tips to determine the ring size accurately:
If possible, the most reliable method is to visit a jeweler for professional sizing. They'll have the tools and expertise to ensure a perfect fit. This is typically a free service.
A ring sizer is a tool that can provide an accurate measurement of the finger. Many jewelers offer this tool, and it's easy to use. Simply slide it onto the finger like a ring until it fits comfortably.
If you're planning a surprise proposal, ask family or friends if they know your partner's ring size. Or, you could playfully try on each other's rings in a nonchalant manner to find a similar size.
Use a Printable Ring Sizer

If you can't get to a jeweler, you can print a ring sizer from a reliable online source. These are strips of paper that you cut out and wrap around the finger to find the size. Follow the instructions carefully to ensure accuracy.
Choose an Adjustable Ring

Choose an engagement ring, which can be resized after the proposal. This can be a good option if you're unsure about the size. We recommend a high polish solitaire. The advantage of this type of design is its versatility and ease of resizing. The absence of additional stones on the band makes it possible to adjust the size of the ring across a large range without risk of damaging any accent stones or altering the overall design. This can be especially beneficial if you're unsure of your partner's exact ring size, as adjustments can be made after the proposal.
Things to Remember:
The size of a person's fingers can change throughout the day due to weather, diet, activity, and more. Try to measure the finger at a few different points in the day for the most accurate size.
The ring should fit snugly on the finger but still slide on and off relatively easily. If it's too tight, it could cut off circulation, but if it's too loose, it could slide off and get lost.
If in doubt, it's often better to err on the larger side. A ring that's too small may not go past the knuckle during the proposal, which can interrupt a moment that's ideally smooth and romantic. Having a ring that's a bit too large is generally less problematic. It will still be able to slide onto the finger during the proposal, and you can then have it resized for a perfect fit afterwards.
Getting the ring size right is important, but remember, the size can usually be adjusted after the proposal if necessary.